For years the role of women within the Construction industry has not received the recognition it should have, however the modern-day Construction Industry is far more engaging in acceptance and encouragement of Women to take up the roles previously consider male only, both by Men and Women.
Since 1953, The National Association of Women in Construction has been committed to encouraging individuals to pursue, establish and sustain successful careers in the Construction Industry
Their aim is to promote the positives in the Construction Industry as a whole and shift the focus from gender to ability, changing the stereotypes women face when it comes to careers by giving them new opportunities to look at.
We wanted to show our support during this week by introducing you to some members of Our team here at J A Burke Construction Ltd. We asked them for some insight into their own experience within the Construction Industry and their thoughts on women who may be considering a career in construction.
Hazel-ann Cope
Accounts Manager
Hazel joined the Company some 19 years ago. She started off working 1 day a week, but as the company has grown in that time, has moved to working 5 days a week as Manager of the Accounts team.
"I have seen the Company grow and grow. When I started there was very few women working in the Industry where now we seem to be including more and more women. The opportunities for women are now vast and J A Burke Construction really invests in their staff by offering them all sorts of opportunities, regardless of gender."
"More women should take up these opportunities as there is so much scope for them please don't be afraid come and join the Construction industry you will be made very welcome."
Kath Sheppard
HR & Training Manager
Kath is our HR & Training Manager and has worked for the company for 5 years now. She has worked in the industry for over 13 years in a variety of administration roles alongside Estimators, Surveyors and Health & Safety Managers to name a few.
"Construction is not all about hard manual work on sites, there are lots of other roles from operating plant, contract managing, Surveying/Estimating, Buying, Engineering, the list is endless."
 "Working in construction is so rewarding and enjoyable and the door of opportunity is open to all. Personally, I would say it is the best sector I have had ever had the good fortune to work within. I would say to any woman who was considering construction to give it a chance… you may be amazed at the outcome."
Maria Hernandez
SHEQ Ad
ministrator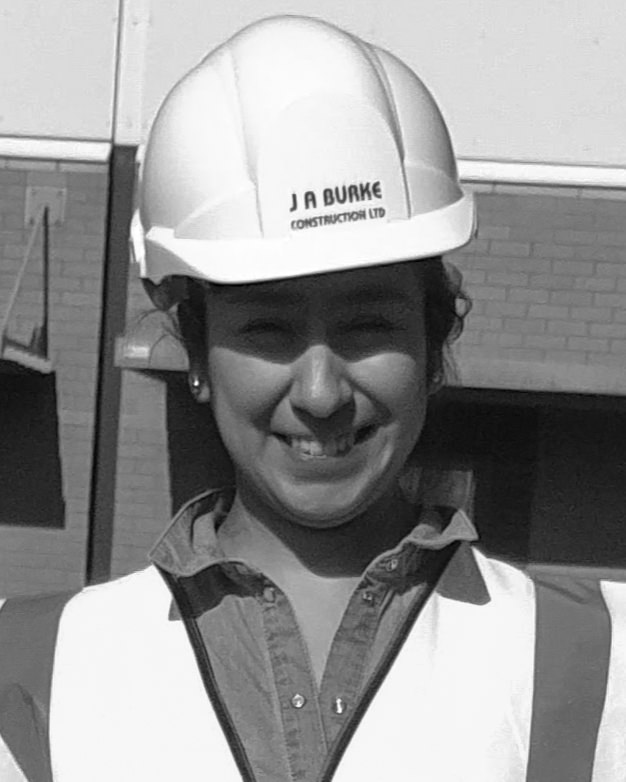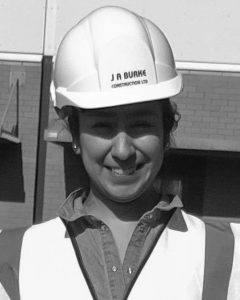 Maria is an Environmental Engineer working in the construction sector for 6 years. Her roles have included Consultant and Environmental Coordinator, she joined JA Burke Construction Ltd one year ago as SHEQ Administrator.
"Many people think that jobs in construction are only for men, but nowadays women can take part in any job in the construction sector and I am proud to be working at J A Burke along with other fantastic women."
Maria believes that women have so much to offer the construction industry; such as creativity, dedication, and contribute positively to the work environment, and would like to inspire other women to start a career in construction.
"Once you decide it, just do it. Don't be afraid. Society is changing regarding gender roles and you will be welcomed to join a thriving industry, with possibilities to develop your career in an exciting job."
Jade Arkless
Trainee Quantity Surveyor
Jade started with the J A Burke Construction Ltd just under a year ago in an office administrator role. From the outset of her engagement it was clear to see she had a lot more to offer, showing an interest in the Commercial side of the business in particular Purchasing and Quantity Surveying, Jade is now working within the Commercial Department taking the guided steps to becoming a Trainee Quantity Surveyor.
"When anyone mentions construction you automatically assume we are talking about men who work out on site, but construction work is also for women, whether it's working within an office role or out on site. We are all still 'Women in Construction'."
"I am proud to be a woman in construction and enjoying the journey I am on at J A Burke. The company has given me the opportunity to learn new skills and knowledge about construction. I believe more women should get involved and beat the stereotype that this is just a 'man's job'."
Petya Rizova
Accounts Assistant
Petya has been working as an Accounts Assistant in JA Burke Construction Limited since March 2018, working within the busy Accounts department, dealing with and assisting in all aspects of accounts for the business whilst also being supported through her AAT Training.
"I thought working for a construction company was rough and tough and full of lots of guys, and I didn't think I could handle that. It was pretty intimidating at first but there's a good culture of teaching. If you're interested in learning, people will show you support."
"Unfortunately, gender stereotypes are more difficult to avoid in an industry which has been so male dominated for such a long time, but unless more women move into the sector the stereotype will never change. Construction is a huge industry with countless roles, it is not just about lifting heavy loads. There are plenty of opportunities for women in construction, as there are in any industry."
 "If you are interested in construction you should go for it! Don't take any negative comments to heart, just give 100% in the job role and prove that you can do it. I love it here and wouldn't want to work in any other sector. It can be hard and sometimes you can be underestimated, but that just encourages me to work even harder to prove just how right I am for the role."
Megan Ganderton
General Administrator
Megan began working for the company at the beginning of 2020 as a General Administrator. Although only with the company for a short time, she has already picked up a number of roles within the office, gaining experience within a number of departments.
"When I first started at J A Burke Construction Ltd, I was surprised at how diverse the construction industry is. Although it is a predominately male environment, there are also many women I've encountered too."
"My last job was far different career wise to what I am doing now, but I have gained so much insight and knowledge in the past few months and still have so much more to learn."
"Working with J A Burke Construction Ltd, I have been presented with several opportunities to further this knowledge such as working in the Plant department. I've also been working alongside Maria, our SHEQ Administrator, learning the details of Health and Safety."
"As a female, it may sound like a daunting path to take when you hear the word 'construction' but there are so many different opportunities out there – not just on site. It's a role to be embraced."
Amy Martin

Office Administrator
Amy joined JA Burke in October 2019 as an Administrative Assistant, and now works as an Office Administrator.
"Women in Construction have been somewhat overlooked in the past, as it has been deemed to be a man's world, but with recent societal developments this is certainly changing, which is allowing more women to explore the various avenues this sector has to offer. Whether it be out on site, or working behind the scenes in the office, the construction industry offers women an opportunity to demonstrate their tenacity, commitment and resourcefulness, which will help to encourage younger generations to consider a career in the industry as well."
"Before I got this job I never saw myself working in construction, but since joining J A Burke I have gained insight into the industry and it is definitely evolving and becoming a more inviting environment for women."


J A Burke Construction will also be partnering with Birmingham based company Salutem to bring a Women in Construction event at one of our sites in the coming weeks.
The aim of this workshop event will be to promote opportunities for all women in the Construction Industry, and hopefully provide some opportunities within J A Burke Construction.
If you want more info on this event the please contact us for details